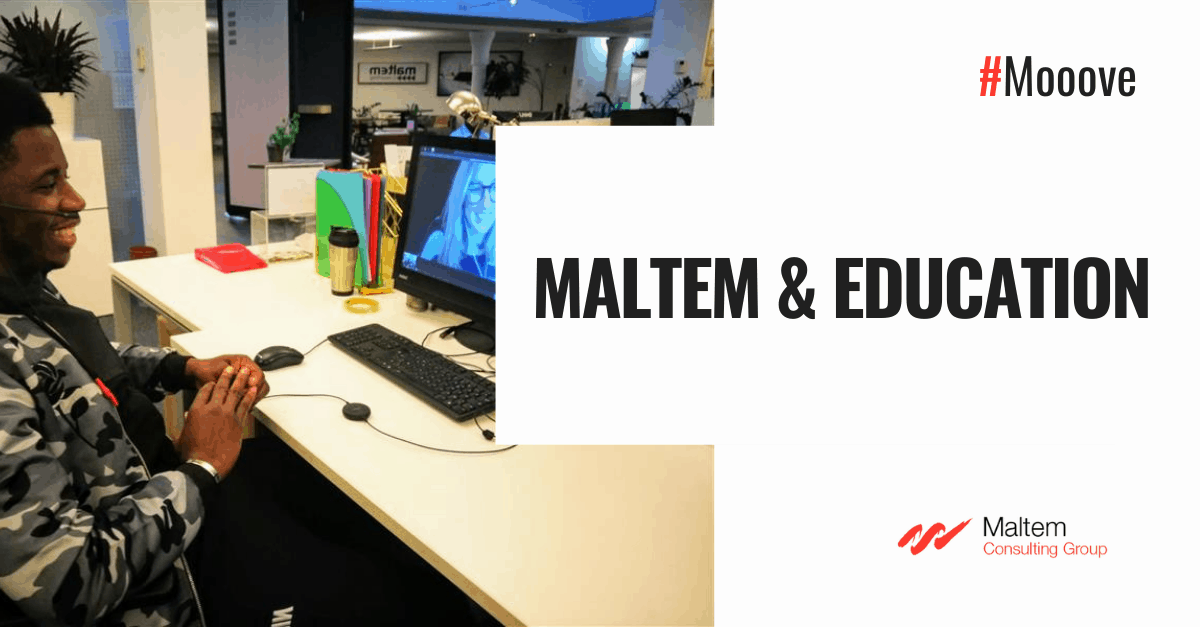 Maltem commits to Education
For Maltem, an IT consulting firm, 2020 and 2021 were years of solidarity. Solidarity with young people weakened by the unprecedented situation generated by the health crisis, solidarity with young migrants in search of a future, solidarity with young Madagascans on a digital training course.
The Aldinie Foundation was created by the founders of Maltem 5 years ago. It federates a certain number of actions for partner associations, mainly in Madagascar and always to contribute to reducing inequalities and offering real chances for the future to disadvantaged children and young people. It is complemented by the Mooove program, which encourages all group employees to get involved.
Beyond this strong commitment of the group and its founders, Jean-Luc Clamen and Pascal Mennesson, it is the employees who are the actors.
Support and accompaniment of young unaccompanied migrant minors.
At the beginning of 2020, the HR team in Paris met with MODAP class teachers, a program that provides schooling for minors who have arrived in France alone. Most of them are non-French speaking, with little schooling in their country of origin, and their journey has often been very chaotic. In addition to the literacy training that is absolutely essential for their integration, they take courses in general subjects and do internships to define an orientation.
At the beginning of the school year, we decided to support these young people by organizing workshops that would allow them to open up their horizons, which were limited to school, housing and child welfare. A simple message to the people of Maltémie has allowed us to gather 24 sponsors to be able to bring them a little more. More contacts, more practice of French, more encouragement and when possible help in their search for an apprenticeship or future training.
This sponsorship brought together employees from France, Luxembourg, Canada, Omnilog and P4H, both experienced and trainees, who were motivated by the desire to make a nice meeting.
Some have found internships thanks to Maltémiens, and even a future apprenticeship, some are followed to improve their level of French. Almamy was able to join the Nanterre soccer club, Max started his internship at the 8 to learn about the commercial business, Bouh comes from time to time to work on his reading and Lassana should start his apprenticeship.
Two workshops were led by the Parisian HR team to help them prepare for and succeed in an appointment with a future boss. They were very attentive and curious, and also had a good laugh while playing ping pong and table soccer.
Everyone was able to discuss and share moments of relaxation or study and stay in touch by video, WhatsApp, messages ... Which, in the opinion of teachers, was very beneficial. Thank you to all those who gave their time and their kindness.
Sponsorship of the first TaFa class
TaFa" means "success" in Malagasy, it is also the short form of Talent Factory and it is the digital training program conducted by P4H in Madagascar.
This programme is a concrete expression of P4H's social vocation, welcoming 19 young graduates who do not have the possibility of following higher education, selected for their aptitude to integrate a training course in digital professions. They wish to become community managers, web designers, web developers or integrators, graphic designers or digital communication officers.
The P4H team, supported by the IT consulting firm Maltem and the Aldinie Foundation, offers them the chance to discover these professions, to define an orientation, and to learn the basics of digital professions. The Aldinie Foundation will accompany the most talented in their higher education.
To help them progress, challenge themselves and benefit from their experience, employees of the group volunteered to sponsor them individually.
Since December, 19 Omniloguians, Maltese and Bocasay employees have been individually sponsoring young TaFa students in their training programme. Digital uses facilitate communication and allow the young people to put what they learn into a professional perspective.
This follow-up and support by the entire P4H team will undoubtedly be a guarantee of success. The TaFa program will last until this summer, we hope that some of the young people will be able to enter higher education and develop the career of their dreams.
Hosting of trainees and solidarity containment
The search for an internship is all the more complicated as young people come from so-called "sensitive" areas or neighbourhoods, and the health crisis has further widened inequalities. They often cannot rely on the network of their relatives and have access to certain sectors of activity.
For many years, the reception of young people in internships has been encouraged within the structures of the IT consulting firm Maltem. Priority is given to young people from who are still in school, in 3ᵉ, bac Pro so that the internship periods open up perspectives that are not part of their daily lives.... A partnership has been set up with REP+ high schools and colleges, which each year offer to host students. We then realize their desire to learn and succeed and their ability to learn and adapt. They should finish the course with more confidence in themselves and in their ability to continue their studies.
Colleagues from the HR, business, reception, accounting or administrative professions are called upon to give a little of their time to showcase their activities. As in 2020, this year, between 10 and 20 young people will share the daily life of the Maltese at 8.
2020 was also marked by the closing of schools and a risk of dropping out for the most fragile students. 15 Maltémiens have accepted to be tutors for young people in REP+ schools in primary, middle and high school. They ensured the daily follow-up of homework given by remote teachers and also provided support and guidance to make this period go as smoothly as possible.
A great display of generosity.
While the troubled times of the past year have disrupted our lives and habits, they have also seen a growing commitment to helping others, particularly young people, who have been hard hit by the many restrictions.
Personal initiatives are relayed to the whole group, ideas are shared to reinforce the efficiency that we can all have together.
Even more than the programmes or actions initiated by Maltem's entities, the strength of our group is its ability to increase the effectiveness of personal or associative solidarity experiences and to support our employees in their commitments.