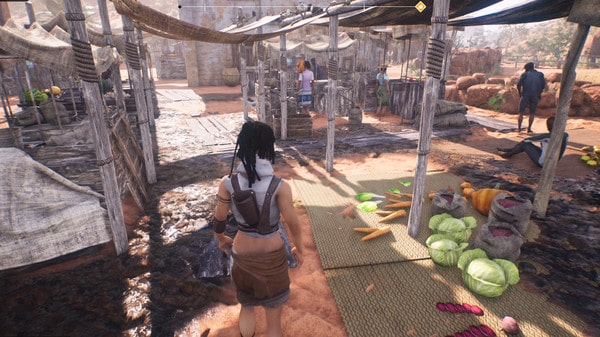 "Dahalo", the first open world game for Madagascar made by Studio Lomay
On the occasion of the release of its new game "Dahalo" this Tuesday, June 09, 2020, Lomay studio presents us its concept and the story of this immersive and committed adventure now available on the Steam platform!
First semi-open world made in Madagascar! 
Named after the Malagasy bandits who stole zebus in the south of Madagascar, Dahalo plunges us into a universe with breathtakingly realistic settings, inspired by the landscapes of southern Madagascar. A shooting and adventure game in which the player discovers the Dara culture and finds himself in the middle of a violent conflict between the population and the legendary Dahalo bandits.
By creating the world's first semi-open game "made in MadagascarLomay has succeeded in highlighting the quality and talent of African independent game studios and bringing cultural diversity to an industry dominated by Western fantasy.
Three characters, united by the same conflict 
As for the game itself, the player takes it in turns to play as Rohy, a young girl from the city searching for her missing father, Soa, a girl from a village whose father was murdered by Dahalos, and Thierry, a soldier in the army. Through the various quests, the player is led to take part in the bloody conflict that terrorises the region. Lost in the middle of unknown lands and an elusive conflict, guided by the thirst for revenge or the duty to obey orders, only their union will allow them to overcome ruthless bandits and find Rohy's father.
With NPC interactions, shooting missions, exploration and more, Dahalo is an invitation to adventure in a world of wild and mysterious lands.
The game as a tool for engaged communication
Behind its fictional characters and the tracking of bandits, it is also a serious and committed message that Dahalo seeks to communicate to us. Because outside the game, this conflict with the Dahalos is real on the island of Madagascar. 
In two decades, zebu theft by the Dahalos has gone from a traditional practice to prove its virility to a real organised crime enterprise. Today, the looting and killings perpetrated destabilise and terrorise entire regions in an escalation of violence that is not ready to stop (4000 deaths in 5 years, and a 67% increase in cattle theft between 2017 and 2018!)
For Matthieu Rabehaja, founder of Lomay studio, video games are a means of communication to raise awareness and get things moving. With Dahalo, Lomay wants to offer the player a quality worthy of the great video game studios, but also to raise awareness and mobilise the public on a tragic situation that is little talked about. 
Population, army soldiers and Dahalo, the number one enemy in this conflict is above all poverty. This is why Lomay is also committed to donating 1€ per game sold to associations that fight for the reintegration of repentant former Dahalo.
About Lomay

Lomay is a committed 3D digital studio that develops video games, augmented reality and motion design.
At Lomay, we are convinced that technology is an important lever to respond to the various societal challenges of our world. We believe that we can play an essential role in the development of Africa and in particular in the economic, social and cultural development of our country, Madagascar. We put all our values, all our skills and all our heart at the service of performance and excellence without ever denying our origins. Moreover, we wear our country's colours loud and clear and we are sure that gaming can allow us to spread our messages and our know-how to the whole world.
Ambition: We are a message of hope for all Malagasy youth: even in difficult situations it is possible to succeed. We have the ambition to compete with the biggest international production studios with a level of quality and requirement that is equal to the challenge. We want to make Africa shine in our field by becoming the continent's leader. We are certain that we can disrupt this huge market by offering attractive production costs while maintaining a very high level of quality. All of this is done in a responsible manner with a strong desire to have a positive impact on our world.
Find the @Steam game by following this link!
https://lnkd.in/eHBAYsU
Web : www.lomay.io/dahalo