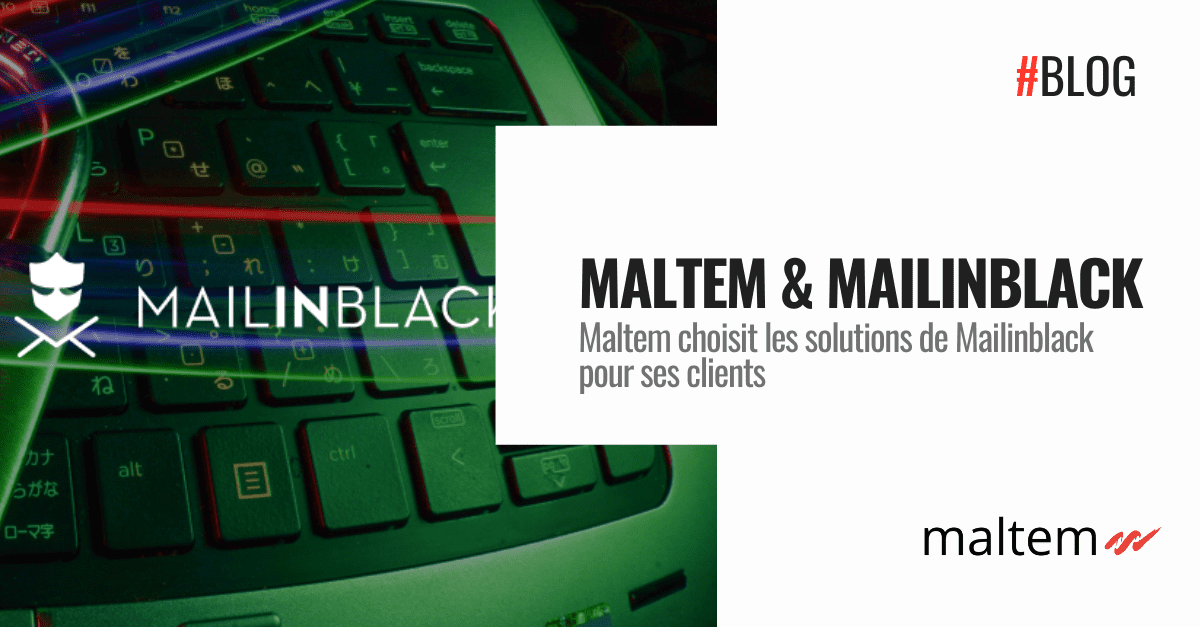 Maltem, specialist in digital transformation, chooses Mailinblack's Protect and Phishing Coach solutions for its clients
Maltem chooses Mailinblack's solutions for its customers
The solutions of Mailinblacksolutions, a cybersecurity nugget and leader in email protection in France, have been selected by Maltem, a digital transformation consulting firm. With 1,100 employees in 12 countries, the Maltem community Cyber Security community launches the marketing of Mailinblack's two sovereign solutions to its customers: Protect, an email protection solution, and Phishing Coach, an awareness and training tool for cyberattacks.
"Maltem selected Mailinblack's solutions for their ability to analyse emails and attachments before they are opened. We are convinced that these solutions will help prevent most of the cyber attacks that our customers face" , explains Jérôme Lutz, Sales Director France Cybersecurity at Maltem.
The Protect solution has recently integrated Artificial Intelligence into its Secure Link technology, which analyzes links in emails before they are opened. It is based on a triple analysis: morphological, semantic and the web page to which the link refers. " The Internet user remains the target of 99% of cyber attacks (Harvard Business Review) and the contribution of AI to our Secure Link technology increases the protection at the moment of the click by 78%," explains Thomas Kerjean, CEO of Mailinblack.
This is a significant comfort when it is estimated that 80% of cyber attacks are transmitted by email.
Maltem Consulting Group, aconsulting firm specializingin digital transformation , carries out your corporate security audits. Meet our team of experts and consultants in cybersecurity in charge of cybersecurity projects.
A partnership between "sovereign" actors
Maltem is now distributing two sovereign solutions from Mailinblack:
Protect : the historic solution to prevent cyberattacks by email such as phishing, ransomware, malware... By analyzing links in emails before they are opened;
Phishing Coach : this is the solution for regular phishing awareness and training through realistic attack simulations and educational content.
"In addition to offering high-performance and competitive solutions, Mailinblack is committed to the sovereignty of its solutions and data. This is a value that we share at Maltem and that is why we wanted our customers to benefit from it", explains Jérôme Lutz.
Solutions for the digital workplace
These tools secure new forms of work (hybrid, 100% flex office, etc.), allowing employees to work in complete confidence and serenity. This is an important aspect for Mailinblack and Maltem, which this year received the Great Place To Work® and Happy Index®At Work certifications respectively.
"We are proud to work with a company whose values are close to our own and which is one of the companies most appreciated by its employees in 2021. This community of values is for us the guarantee of a lasting and profitable partnership between our two companies", concludes Cédric Langlasse, Partnership Manager.
Founded in 2001 by Jean-Luc Clamen and Pascal Mennesson, Maltem is present in Brussels, Hong Kong and Paris. The company has an annual turnover of over 100 million euros.
About Maltem :
Founded in 2001 by Jean-Luc Clamen and Pascal Mennesson, Maltem is a group specializing in digital transformation consulting, which today employs more than 1,100 people in 12 countries, with a turnover of 100 million euros. The group's activities cover a wide range of skills, organized into communities: Consulting, Data, Agility, Dev, Design Experience and Cyber Security with specific expertise in the fields of banking, insurance, energy and media.
About Mailinblack:
Founded in 2003, Mailinblack is the French nugget that makes cybersecurity accessible to all organizations. Its teams of 70 employees, based in Marseille, design, develop and host its cybersecurity solutions in France. These include the Protect solution (email protection against malware, phishing, ransomware, spam, scam, etc.) and the Phishing Coach awareness and training tool, which reduces the risk of cyberattacks by 70%. Winner of the Grand Défi Cyber and with more than 15 years of expertise in security, R&D and artificial intelligence, Mailinblack now has 1 million users and 14,000 customers in the public and private sector.
Press contact: Agence Oxygen RP
Caroline Hoffmann - caroline.h@oxygen-rp.com - 06 77 51 58 42
Henry de Romans - henry@oxygen-rp.com - 02 72 88 12 69