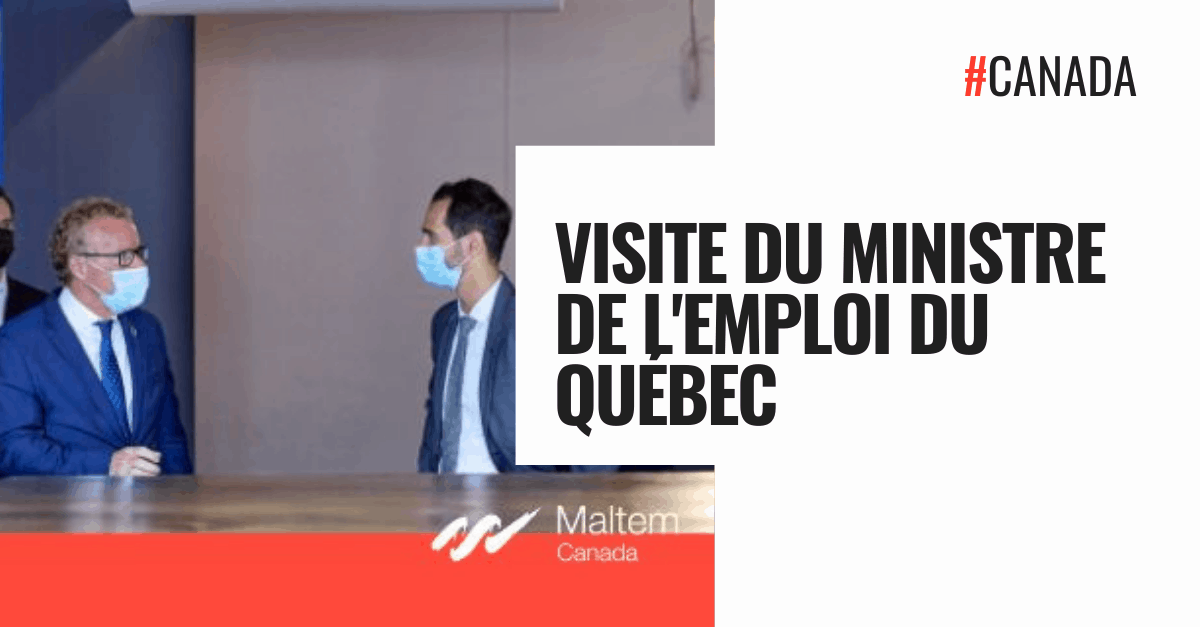 MINISTER JEAN BOULET ANNOUNCES OVER $345,000 TO SUPPORT THE CREATION OF 102 JOBS IN THE INFORMATION TECHNOLOGY SECTOR
Montréal, June 14, 2021. - The Minister of Labour, Employment and Social Solidarity and Minister responsible for the Mauricie region, Jean Boulet, has announced financial support of $345,430 to Maltem Canada for the hiring and training of 102 new employees in the information technology (IT) sector.
The financial support announced will enable the company to set up its "digital studio" in Montréal for its Canadian and American clients, which includes the development of digital centres and a training program for its employees. It also wants to establish a centre of excellence in cybersecurity, in order to counter the increase in cyberattacks since the advent of the COVID-19 pandemic. A total of 40 of the new positions created will be related to cyber security expertise.
As increasing the skills of employees is of paramount importance for the realisation of these projects, training will be offered to all employees and will cover various topics, including human resources, cybersecurity and technical expertise.
QUOTES
"The labour shortage is a very real phenomenon in Quebec and the IT sector is no exception. It is therefore important for our government to stimulate the labour market by supporting initiatives like those of Maltem Canada, which contribute to a prosperous and sustainable economic recovery in Quebec. By establishing its digital studio and cybersecurity centre of excellence in Montréal, the Maltem Group will create some one hundred specialized, well-paying jobs. In a market like the IT industry, which is becoming increasingly competitive and open to the world, it is essential that projects like this one be established in Quebec.
Jean Boulet, Minister of Labour, Employment and Social Solidarity and Minister responsible for the Mauricie region
"I am always pleased to see that our region is a destination of choice for IT companies. It goes without saying that the cybersecurity field is booming in Montréal, especially over the past year. It is therefore natural for your government to support projects like Maltem's, which focuses on job development in a priority sector like IT.
Chantal Rouleau, Minister for Transport and Minister responsible for the Metropolis and the Montreal Region
Support and training for all our employees, generations Y and Z, is a key component in retaining our workforce.
and Z generations, is a key component in the retention of our workforce.
We appreciate the opportunity that we have been given thanks to the financial support of
financial support from Mr. Boulet's government, which will allow us to achieve the expected growth
over the next three years. ''
Marc Giraud-Sauveur, Co-Founder of Maltem Canada
HIGHLIGHTS
- The financial assistance is granted under the measure of training of the workforce - enterprise
training measure - enterprise component (MFOR-E). This assistance will
mainly to cover nearly 25% of employee training costs.
- For 20 years, Maltem Consulting Group has covered a wide range of digital
digital skills: consulting, data fabrication, Agile technology
design and cybersecurity with specific expertise in the fields of
banking, insurance, energy and media. The group has been present in
Canada since 2018 and currently has 26 employees in Montreal.
- The financial assistance announced meets one of the objectives of the 2019-2023 Strategic Plan of the Ministère du Travail, de l'Emploi et de la Solidarité sociale, namely to provide greater support to businesses in adapting their human resources management practices.
human resources management practices.
- Companies wishing to obtain information on the programmes, measures and services available to them can contact a
measures and services that may be available to them can contact a business advisor at the
advisor from the Ministère du Travail, de l'Emploi et de la Solidarité
at the nearest Services Québec office.
For more information: Click here